This will be a fairly short post to cover the VCP-CMA objective around creating and managing vRealize Automation fabric groups. A Fabric Group is a collection of resources that vRA can make use of. Fabric groups can be created by IaaS Admins.
Creating a Fabric Group
Log into vRA then go to Infrastructure tab | Groups | Fabric Groups.

Once there, click the 'New Fabric Group' button. A new page will open where we can enter details for the Fabric group: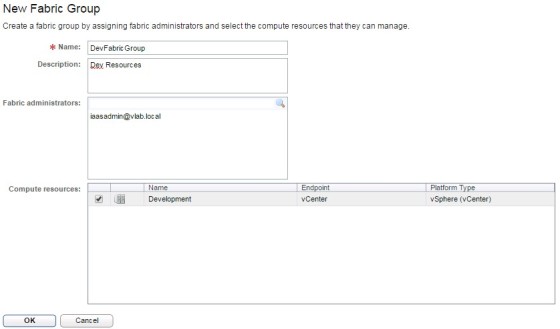 On this page, provide a name for the Fabric Group, and a description. Choose a user that will be granted the fabric administrator role. Then select the compute resources that will belong to this fabric group (resources will be available based on the endpoints configured). Click OK once happy with the configuration, the group will then be created:

That's about it for creating Fabric Groups. You can read more about them here. In my next post I will look at setting up machine prefixes and business groups.
Keep up to date with new posts on Buildvirtual.net - Follow us on Twitter:
Follow @buildvirtual