This post will take a look at creating business groups in vRealize Automation. Business groups are created by Tenant administrators, and are often aligned to a line of business or department. Before a user can request resources in vRA, they must be a member of a business group. One of the requirements when creating a new business group is to select a machine prefix, so it's necessary to create at least one machine prefix before creating a business group. A machine prefix defines the naming convention that machines provisioned by the business group will use.
Creating Machine Prefixes
To create a machine prefix, log into vRealize Automation as an Infrastructure administrator, select the 'Infrastructure' tab then navigate to Blueprints | Machine Prefixes:
Enter a Machine Prefix – all VMs created will be named based on the prefix then a number of digits. I used the prefix 'DEV', with 2 digits, which will result in the VMs being named DEV01, DEV02 and so on:

With at least one machine prefix now available, it will now be possible to create a business group.
Creating Business Groups
To create a new business group, log in as a Tenant Administrator and navigate over to Groups | Business Groups, on the Infrastructure tab: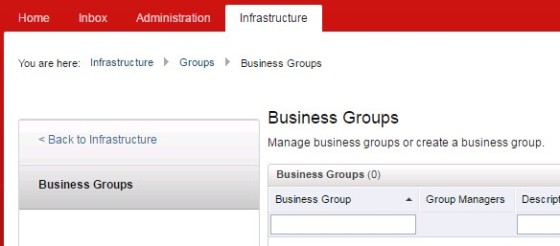 Click the 'New Business Group' button to open the New Business Group form: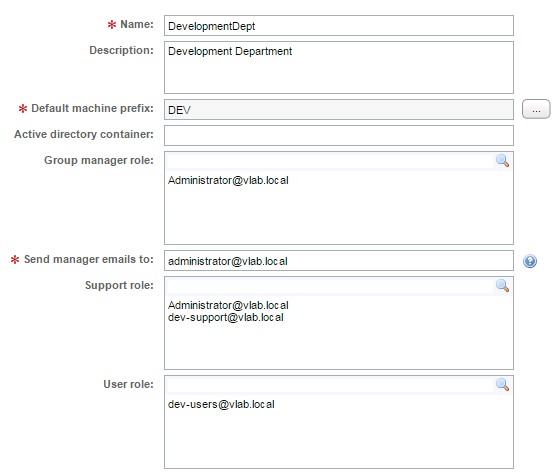 Start by entering a name for the new business group and, optionally, a description. Next select the machine prefix to be used by this business group. I've selected the 'DEV' machine prefix that I created earlier. Optionally, specify an active directory container where machines provisioned my this business group will be placed (note this is only relevant when using WIM provisioning).
Next, select a user for the Group Manager role. The group manager will have permission to create and publish business group specific blueprints, and will be able to manage business group specific catalog items and entitlements. Enter the email address for the group manager in the next box. Next add users to the business group either with the 'Support role' or the 'User role'. A user is able to request and manage services from vRA whilst a support user is able to request services on behalf of other users. Note that groups can be selected as members of either role, along with individual users.
Once all areas of the form have been completed, click OK to create the business group.
Useful Links and Resources
http://pubs.vmware.com/vra-62/index.jsp?topic=%2Fcom.vmware.vra.iaas.virtual.doc%2FGUID-CDB547F8-0529-4270-891F-B04F5C9E8816.html
Keep up to date with new posts on Buildvirtual.net - Follow us on Twitter:
Follow @buildvirtual