If it has been determined that a virtual machine requires additional CPU or Memory resources in order to perform effectively, then Hot Add can be used to increase the VM's resource allocations without incurring downtime to the virtual machine. You can use CPU and Memory Hot Add if:
The Guest OS in the virtual machine supports Hot Add.
The VM is using hardware version 7.
VMware Tools is installed.
There is a bit of a gotcha with hot add in that in order to enable the feature, the VM has be be powered off. Without the feature enabled on the VM then it is impossible to Hot Add vCPU or memory resources whilst the VM is running. So, if there may be a need for hot add, it's important that the feature is enabled prior to when it is needed!
To enable hot add functionality for a virtual machine, head to the Options tab in the virtual machine's settings, then click on Memory/CPU Hotplug: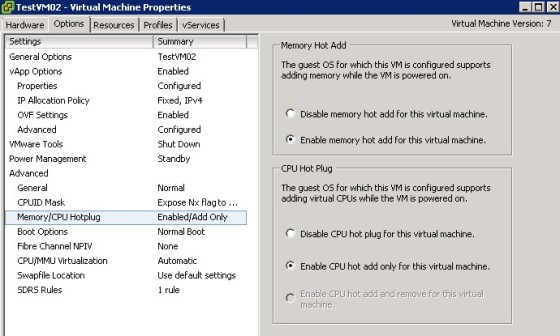 Once the feature is enabled, you will be able to change CPU and/or memory allocations, provided the virtual machine meets the pre-requisites mentioned at the beginning of this post.
Keep up to date with new posts on Buildvirtual.net - Follow us on Twitter:
Follow @buildvirtual