NetFlow is a network analysis tool that you can use to monitor network monitoring and virtual machine traffic. It is available on dvSwitches that are version 5.0 or later.
NetFlow is configured in the dvSwitches' settings window. To configure NetFlow, go to the Networking view in the vSphere client, right click on the dvSwitch and click 'Edit Settings'. Once the settings windows has opened, go to the NetFlow tab: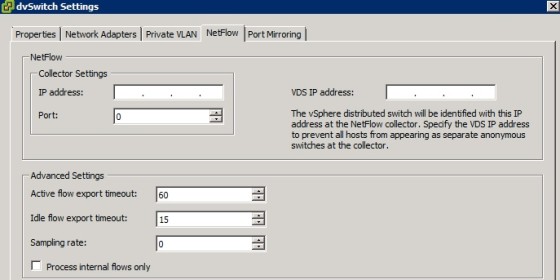 To configure this dvSwitch, enter the IP address and port of the NetFlow collector, and set an IP address which will be used to identify the dvSwitch. you can read more about the configuration here and here.
Keep up to date with new posts on Buildvirtual.net - Follow us on Twitter:
Follow @buildvirtual