Port mirroring is a feature of a dvSwitch that allows you to mirror a port's traffic to another dvswitch port or physical switchport. It is available on distributed switches that are version 5.0.0 or higher. Port Mirroring is configured in the dvSwitch settings: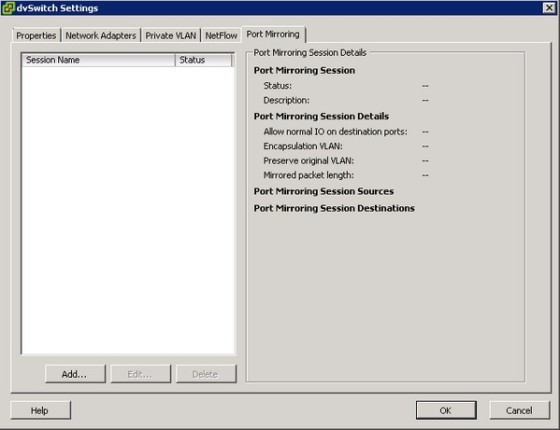 To begin configuring a Port Mirroring session, click 'Add':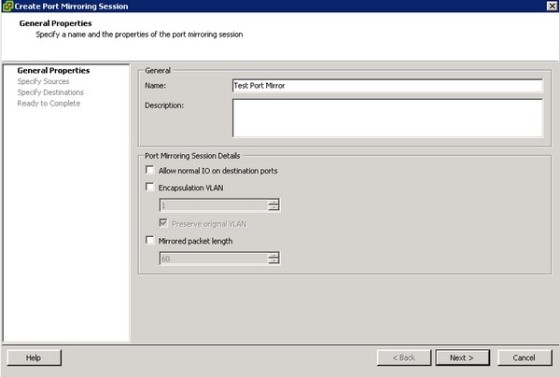 On the first screen, you must give the session a name, then there are the following optional parameters.
Description (a description of the session);
Allow Normal IO on Destination Ports (When this is selected, mirrored traffic will be allowed to be received on destination ports, but no other traffic will be allowed);
Encapsulation VLAN: This option allows you to create a new VLAN to send the traffic over.
When ready, click Next to go to the next screen, where you can specify the traffic source for the mirroring session. You will need to know the source and destination ports that to refer to, e.g.:
I want to mirror the traffic from my XP1 virtual machine to my XP2 virtual machine, so I will set the source options as follows:

On the next screen I can then configure the destination port:

As I want to use a virtual machine as the destination, I have chosen a port on the dvSwitch, however you can also mirror the source port to an uplink on the host, allowing you to mirror the traffic to an external device.
The last set up screen presents a summary of the chosen options. Remember to tick the box to enable the session if you wish to do so now, then click 'Finish' to create the session:

You will be able to see the enabled session on the Port Mirroring tab of the dvSwitch: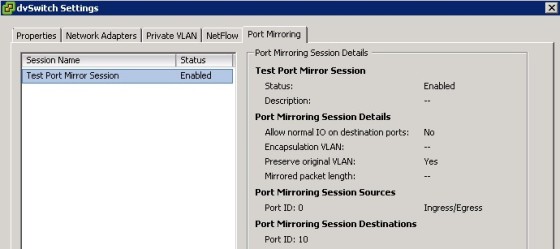 You can go and edit the session to disable it, or delete it here when the session is no longer required.
Useful Links and Resources
http://blogs.vmware.com/vsphere/2012/06/how-to-use-port-mirroring-feature-of-vds-for-monitoring-virtual-machine-traffic.html
Keep up to date with new posts on Buildvirtual.net - Follow us on Twitter:
Follow @buildvirtual